New Lawn Installation Services
Professional Landscaping & Maintenance Contractor in San Diego, CA
We will professionally design, installs new lawns from spring through mid-fall. We provide two options for installation: seeding or sodding. Of course, the best lawns are properly prepared prior to any new installation. Barnes is equipped to handle all of your lawn prep needs. We recommend installing new lawns in the early fall (late August to mid-October).
TWO WAYS TO INSTALL A NEW LAWN
Seeding– the preferred method of establishing a lawn
half the cost of sod.
many wonderful seed blends are available for any type of condition.
Grass seed can be applied by drop spreaders or hydro-seeding equipment or a combination of both.
Sodding– when there is no time to wait for that instant green carpet
Twice the cost of seeding.
Highly perishable–must be put down immediately.
Requires 2 weeks of concentrated heavy watering after installation to assure its success.
Growing a lawn from grass seed takes patience, effort, and the right weather conditions. Why not get a great-looking lawn now with sod installation from Huizar's Landscape? Our sod installation experts have years of experience in nurturing gorgeous, healthy lawns for our customers. For sod lawn installation you can trust, look no further than The Grounds Guys near you.
Please use the form to contact us online.
If you need immediate assistance, please call us.
Growing a healthy, green lawn from seed won't happen overnight. It takes time for a newly-seeded lawn to develop into a dense stand of turfgrass. Best results depend upon sufficient watering, proper mowing, and continuing maintenance. We warranty our work and will follow up after seeding or sod installation to evaluate results and confirm your satisfaction. Regularly scheduled fertilization along with weed and insect control are important so that your new lawn continues to thrive.
LAWN INSTALLATION QUESTIONS – WHEN IS THE BEST TIME TO SEED?
Best results are achieved during late summer/early fall. Warm days and cool nights are ideal. New grass has time to mature before winter without competition from vigorous weeds. Although sometimes necessary, lawn seeding in the spring and summer is not recommended. Newly emerging grass will struggle and be crowded out by fast-growing weeds and crabgrass. Hot temperatures can adversely affect delicate new grass. Although seeding can be performed at this time, some areas may require touch-up seeding in the fall.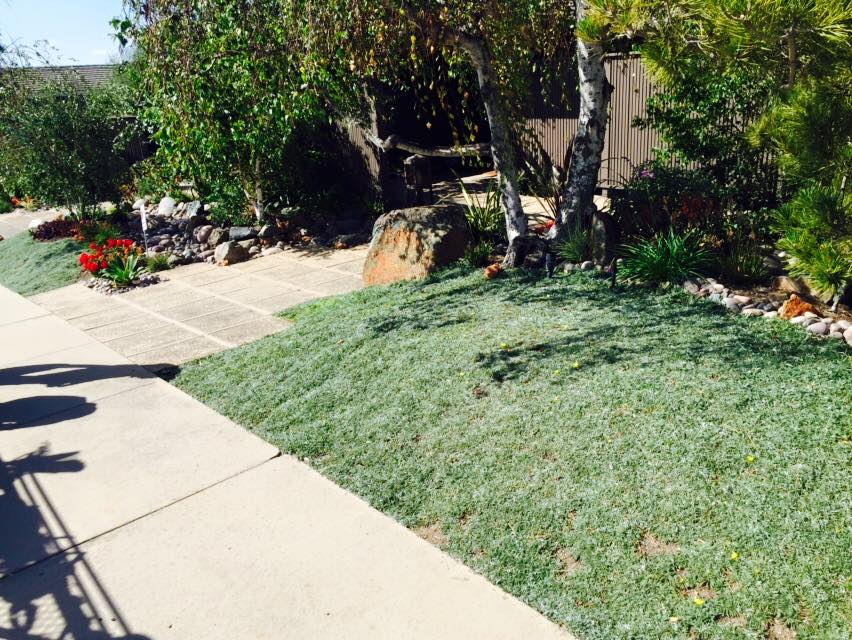 WHAT IF MY YARD IS SHADY?
Inadequate sunlight is often a major factor in lawn deterioration. Shading increases as nearby trees mature. Selective pruning or tree removal may be required to increase penetration of sunlight. Learn more about Horticultural Pruning.
LAWN INSTALLATION SERVICE NEAR YOU
Looking for a sod lawn installation service in your area? Find your local The Huizar's Landscape experts, and take one step closer to an amazing yard! You can also give us a call at
619-212-5478
to discuss the lawn of your dreams and get a free estimate.
We offer free estimates on all our services
You can definitely count on us doing a remarkable job for you!
We always want to be transparent with our customers and keep their budgets in mind.